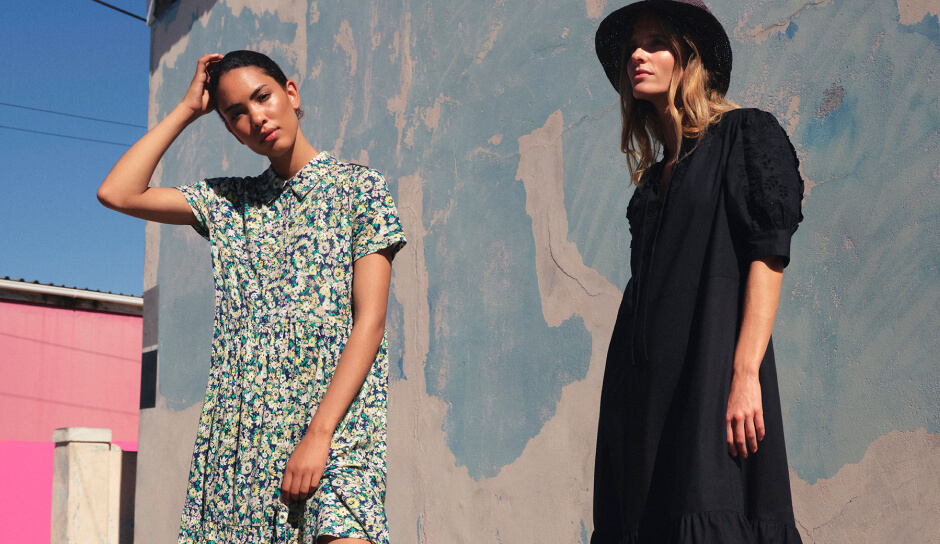 OUR PEOPLE
Sustainable
committed
conscious
SEEKING • ECO-FRIENDLY • WORLD
By 2023, we aim to positively impact over 50,000 workers to feel safe, respected and fairly paid. By 2025, we aim to have empowered over 5,000 women to move into management positions. We believe in being committed by supporting communities and having a positive impact on future generations, it is part of our heritage. This happens through our artisan collections, our partnership approach and charity work.
Artisan
Since 1973, Monsoon Accessorize has worked with craftspeople and homeworkers to create the unique hand-crafted Monsoon look and feel. Our early collections were born from clothes made in Indian villages using hand embroidery, block prints and local crafts. While we may have grown into a global company, we remain committed to our hand-crafted bohemian roots and supporting these rural communities as well as their skills, contributing to our ethnic sustainability. You can recognise the garments that feature this unique handiwork through our Artisan ticket.
Our supply chain
We have worked extensively with our suppliers and operate with them as true business partners. Over 80% of our total spend is with suppliers that we have worked with for over 10 years, some we have worked with since we started in 1973. As a family-owned business, we strive to build strong and healthy long-term relationships with our suppliers to grow and improve. Our in-house design team works with our suppliers to create unique, individual designs. We have a credit scheme in place for our suppliers, so they can withdraw funds in order to buy the relevant raw materials to make a product. We strive to support our business partners to invest and become flourishing companies, which in turn benefits our workers.
We ask every single one of our suppliers to commit to the Monsoon Accessorize Code of Conduct. This aims to protect workers by setting out minimum requirements on working conditions, pay and employment rights. The Code is implemented at all factories and production sites throughout the supply chain.

No orders are placed with suppliers until risk assessment checks and independent audits of factories in our supply chain have been completed and approved. Independent audits are renewed annually and reviewed separately by us on a spot-check basis.

Our efforts also extend to the artisans and other skilled workers who help create some of our most special things, often in small local workshops or their own homes. Those working from home undergo additional monitoring, due to the specific vulnerability of their working conditions. We require all our suppliers to ensure these craftspeople receive fair piece rates for their work, which is then closely monitored by our Ethical Trade team.

Wherever we find a problem, we do everything we can to put it right. We work with our suppliers to create a corrective action plan that drives meaningful and enduring improvements in working conditions. We then monitor progress through regular visits to suppliers' factories.

As a proud member of the Ethical Trade Initiative (ETI), we're part of a powerful collective of companies, trade unions and civil society groups fighting for decent working conditions. We require all our suppliers to sign up to our Code of Conduct. It's based on the ETI's base code and includes:

Fair living wages
No harsh or inhumane treatment
No forced labour
No child labour
No discrimination

Say goodbye to the tumble dryer! When it's not raining outside, it's great to hang your clothes on a line and let the sun dry them. If the weather's not so great, use a drying rack in the warmest room in your house. Over-tumbling can break down the elasticity of your clothes, making them lose their shape over time. Air-drying not only means you can keep your clothes for longer but will also result in a smaller energy bill — win-win!

Our Seeking an Eco-friendly World (S.E.W.) clothing is a newOur recycled polyester is made from PET plastic bottles which are formed into strings of yarn, before being dyed and woven together to create a soft-touch texture. 50% of the polyester in our knitwear collection is made from recycled polyester.
Supporting our supply chain
The Ethical Trade Team are committed to identifying high-risk sites and regions, as well as utilising available resources to understand and improve working conditions. While audits remain a necessary due diligence tool, we employ a risk-based approach to further strengthen our global supply chain and work in partnership with our suppliers to support safe and healthy conditions. For example, we recognise the impact that our purchasing practices have and are committed to training our staff to buy responsibly.
We are also working with GoodWeave, a leading global organisation with a mission to end child labour in supply chains, to map and monitor some of our core embellishment production sites. GoodWeave supports children in communities that we source from by providing access to education that is suitable for their individual needs. In addition, GoodWeave offers training to homeworkers on workplace issues as well as financial and written literacy to help create sustainable livelihoods.