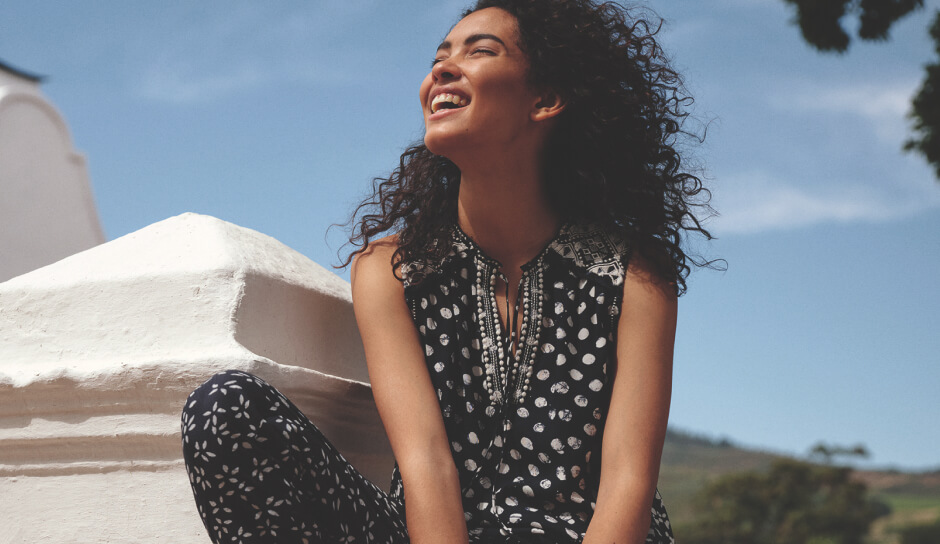 OUR PRODUCT
Sustainable
committed
conscious
SEEKING • ECO-FRIENDLY • WORLD
Our goal is that by 2023 over 98% of our cotton will be either recycled, organic or sustainably sourced, and over 90% of our total range will be made with sustainable fabrics. S.E.W (Seeking an Eco-Friendly World) is our commitment to being more sustainable. Every garment carrying a S.E.W label has been created using responsibly sourced fibres and eco- friendly fabrics.
Since technologies that would enable recycling clothes into virgin fibres are only just starting to emerge, we are constantly investigating and trialling different raw materials including bamboo fibres and plant-based viscose. Our eco-friendly clothing supports and celebrates both people and the planet.
Sustainable fabrics
As new technologies emerge to make garment recycling even more effective, we are committed to supporting the move into new raw materials that have less of a negative impact on the environment. For example, cotton recycling is very ineffective, but we will support cotton farmers to continue to have a livelihood by supporting their transition to organic cotton or other sustainable raw material growth.
Over 50% (over 500 garments) of our SS20 collection will be made with sustainable fabrics. From AW19, this number has increased by over 900% and we aim to do even more. While promising 100% is always difficult, we aim to have over 90% of our whole range made with sustainable fabrics by 2023.
Breathable, light and soft to the touch, our organic cotton is grown using methods and materials that are kinder to the environment. It avoids toxic pesticides and synthetic fertilisers which makes production safer for people and wildlife.

Cotton which has been produced by farmers who are trained in sustainable agricultural practices and are on an improvement program to become more sustainable. By helping farmers grow cotton in a way that reduces stress on the local environment and improves the livelihoods and welfare of farming communities, we are supporting the movement for sustainable cotton. Over 30% of all our cotton bases are Organic Certified or sustainable cotton.

Our Seeking an Eco-friendly World (S.E.W.) clothing is a newOur recycled polyester is made from PET plastic bottles which are formed into strings of yarn, before being dyed and woven together to create a soft-touch texture. 50% of the polyester in our knitwear collection is made from recycled polyester.
Animal welfare
Our furry friends are important to us too! We never use real fur or mohair in any part of our products and haven't done so for over 15 years. In fact, we ensure the only animal-derived materials we use are by-products of the food industry.
We take special care to ensure any luxury yarns are sourced only from producers who uphold high standards in animal husbandry. We prohibit any animal testing in the development or manufacture of our products.
VIEW ANIMAL WELFARE POLICY
We have zero tolerance for animal cruelty in our supply chain. All our suppliers are required to sign up to our animal welfare policy as a condition of doing business with us. This states that:
We do not use down in our clothing
We do not use angora in our production
We do not sell genuine fur
All leather or skin must be sourced as a by-product of the meat industry
Merino wool used in our products must not be sourced from farmers who practise mulesing
Cashmere, alpaca and mohair used in our products must be sourced from producers with good animal husbandry.
Feathers used in our products must be sourced as a by-product of the meat industry (excluding foie gras production).
No products in full or part are to be sourced from endangered species from the CITES (Convention on International Trade in Endangered Species) or IUCN (International Union for the Conservation of Nature) lists.
No animal testing is carried out on our cosmetics or fragrances during production or on the finished products